Tapping Tremendous Changes in Cross Border E-commerce Industry with Expertise from PAN ASIAN E-COMMERCE ALLIANC
Tradelink Electronic Commerce Limited ("Tradelink", SEHK: 0536), as Hong Kong's representative member in the Pan Asian e-Commerce Alliance ("PAA"), attended the 52nd PAA Steering Committee meeting, hosted by Korea Trade Network ("KTNET") from 21st to 22nd April 2016 in Jeju, Korea. The meeting brought 11 members together to explore and formulate renewal collaborating strategies for tapping the fast moving development in cross border paperless trade.
Mr Kwanghyun SEO, CEO & President of KTNET expressed his welcome to PAA members and recognized the contribution from PAA providing an excellent platform for collaborations. PAA has gained the respect from international organizations for its contribution on cross border paperless trade facilitation. Mr Choi, Wonho, Executive Managing Director of Korea International Trade Association also expressed warm welcome to PAA members from 11 member economies and appreciated their contributions to the regional ecommerce development with their know-how in technology.
PAA Chairman, Mr. Francis Lopez, drew attention to the PAA members' effort to adopt new initiatives and technologiess to enhance their competitiveness. Continuous participation to the initiatives of APEC, UNESCAP, UNCITRAL and other international organizations, allows PAA to share its expertise and experience in facilitating paperless trade. "Even though the PAA turned 16 this year, we continue find ways to innovate and incorporate new ideas into our collaboration. We cannot focus only on our respective economies, but also on enabling our clients with global electronic trade services." Mr. Lopez said.
Leveraging on the new initiatives from members, the PAA has agreed on new collaborative projects to enhance services to the respective customers. The HS Code Classification Service facilitates the selection of the right HS Code for products, and the Trader Performance Report Service provides reliable information on actual exports of traders. These will complement the PAA eMarketplace (PAE) and facilitate compliance to Customs procedures and provide credible information to traders, banks and lending institutions. Moreover, the PAA has agreed to pursue integrated global trade services in collaboration with other service providers.
The 53rd PAA Steering Committee Meeting will be held in Bandung, Indonesia on 11th to 12th August 2016.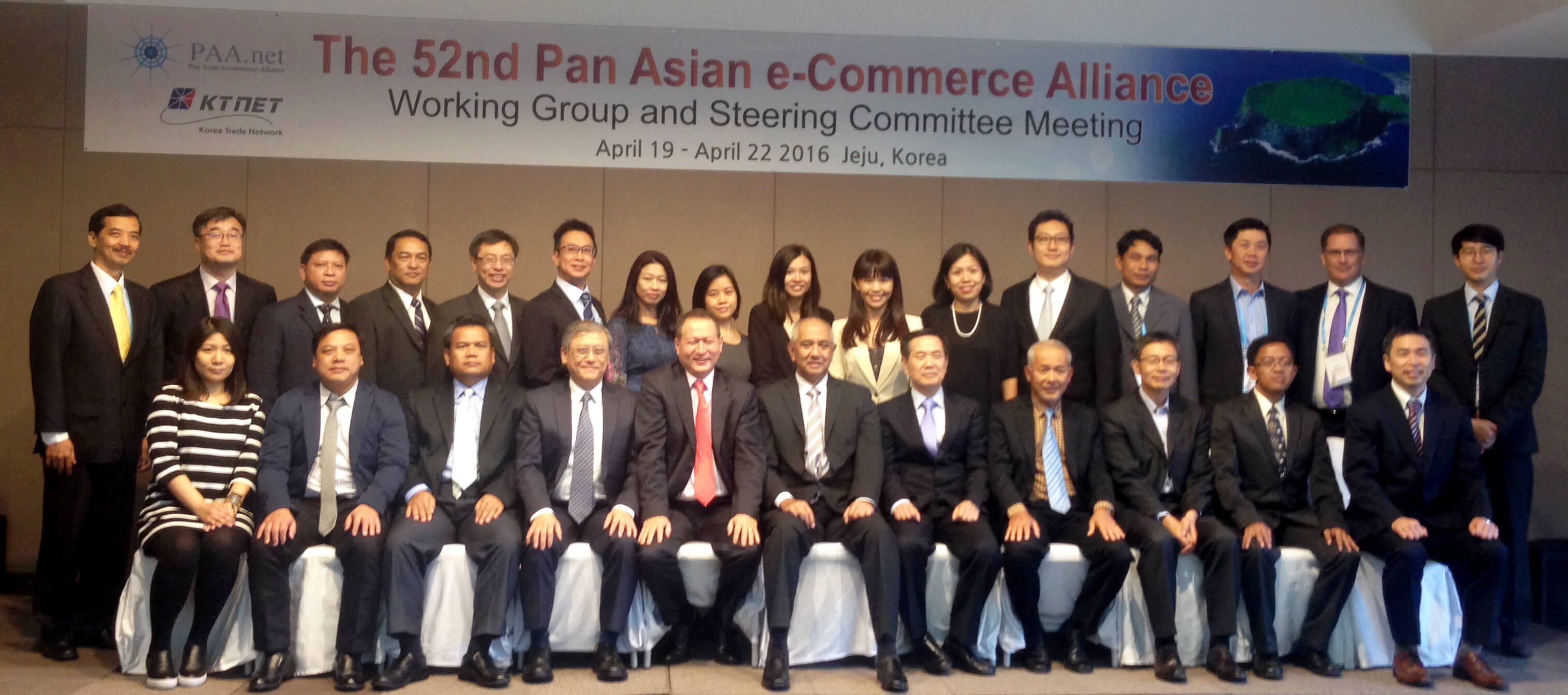 Photo Caption: The 52nd PAA Steering Committee Meeting was held from 21st to 22nd April 2016 in Jeju, Korea.
arrow_circle_leftback