PAN-ASIAN E-COMMERCE ALLIANCE Launching a New Roadmap for Collaboration in Paperless Trade
Tradelink Electronic Commerce Limited ("Tradelink", SEHK: 0536), as Hong Kong's representative member in the Pan Asian e-Commerce Alliance ("PAA"), attended the 54th PAA Steering Committee meeting hosted by CAT Telecom Public Company Limited (CAT) from 8th to 9th December 2016 in Thailand. Members from 11 economies embarked on new initiatives for PAA and cross border paperless trade through domain knowledge sharing and discussion.
At the welcome dinner, Mr. Somyot Tanapirunthorn, Executive Vice President of CAT welcomed PAA members and appreciated their contribution in enhancing trade facilitation. He also shared the developments of CAT whose e-commerce business is evolving from exchanging electronic documents to electronic payment services. Facing the advancements in information technology, both CAT and PAA should rise to the challenges and tap the market potential.
PAA Chairman, Mr. Francis Lopez, drew attention to the PAA members' effort to strengthen the market position in our respective economies by their comprehensive domain knowledge. "By leveraging on the PAA platform, PAA members not only benefit from the experience sharing our paperless solutions, we also expand our businesses through different bilateral cross border projects. In this meeting, two MOUs were signed to accelerate cross border connectivity. The first was between InterCommerce (Philippines) and Trade-Van (Taiwan) and the second was between DagangNet (Malaysia) and Trade-Van (Taiwan). Furthermore, the recognition and appreciation from the international organizations fully demonstrate PAA's value and influence in paperless trade on the global stage." Mr. Lopez said.
To maintain the leading position in paperless trade and seize the market opportunity, PAA members discussed a new roadmap for PAA. Learning from the experience in projects and connectivity among members, the PAA members would be able to provide a platform for trade, logistics and financial information exchange.
The Pan Asian Exchange, PAA's B2B eMarketplace is growing steadily, and the food and beverage sector was identified as focus area to support initiatives on agri-food supply chain, SME development and food security.
The 55th PAA Steering Committee Meeting will be held in Taipei on 10th to 11th May 2017. PAA will take this opportunity to improve public and private partnership with government agencies at the Taipei meeting.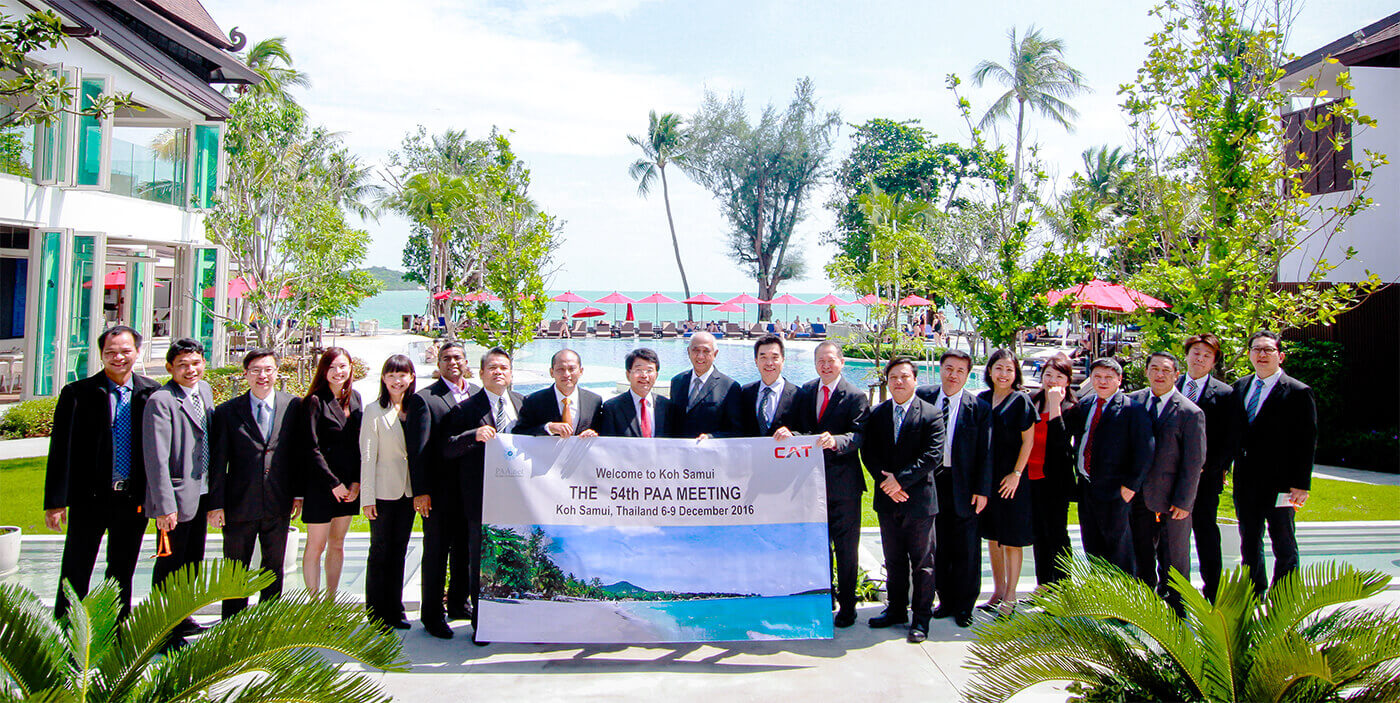 Photo Caption: The 54th PAA Steering Committee meeting hosted by CAT Telecom Public Company Limited (CAT) from 8th to 9th December 2016 in Thailand.
arrow_circle_leftback