PAA Bridging The Asian Economies with Secure and Seamless Regulatory Documents Exchange Network
Tradelink Electronic Commerce Limited ("Tradelink", SEHK: 0536), as Hong Kong's representative member in the Pan Asian e-Commerce Alliance ("PAA"), attended the 55th PAA Steering Committee Meeting hosted by Trade-Van Information Services Co. of Taiwan, was held in Taipei from May 10th to 11th, 2017. Representatives from 10 member economies including Taiwan, Indonesia, Philippines, Singapore, Malaysia, South Korea, Japan, Thailand, Macau and Hong Kong attended the meetings. In conjunction with the PAA Steering Committee meeting, a press conference was organised to commemorate the signing of cross border collaboration.
Since 2007, Trade-Van and KTNET have been working on the Electronic Certificate of Origin Exchange Project which helps to reduce time and cost for the trading community when compared to the manual process for paper based certificates. Building on this success between South Korea and Taiwan, Trade-Van simultaneously signed Cross Border Electronic Certificate of Origin Exchange Agreements with five PAA partners from Indonesia (PT EDII), Philippines (InterCommerce), Singapore (CrimsonLogic), Malaysia (DagangNet), and Thailand (CAT). Furthermore, Trade-Van and KTNET also signed agreement which facilitates the exchange of electronic Sanitary and Phytosanitary Certificates.
"Trade-Van has long been cooperating with Government's policies for building a secure and convenient information environment. We, as one of the founders of PAA, have been dedicating ourselves to cross border trade facilitation together with the PAA members", said Dr. Alan Hsu, the Chairman of Trade-Van. Mr. Ken Chen, the Chief Secretary of Taiwan Customs Administration, Ministry of Finance reiterated the strong support from Taiwan Customs for the Electronic Certificate of Origin Exchange Project.
Mr. Ken Saw, the PAA Chair, emphasized the PAA's vision in facilitating cross border digital trade. He called out the need for strong Government and Private sector partnerships to push the boundaries for faster, better, cross-border paperless trade and congratulated Taiwan Customs and Trade-Van for their leadership in this area.
The next PAA Steering Committee meeting will be held on November 9th to 10th 2017 in Philippines.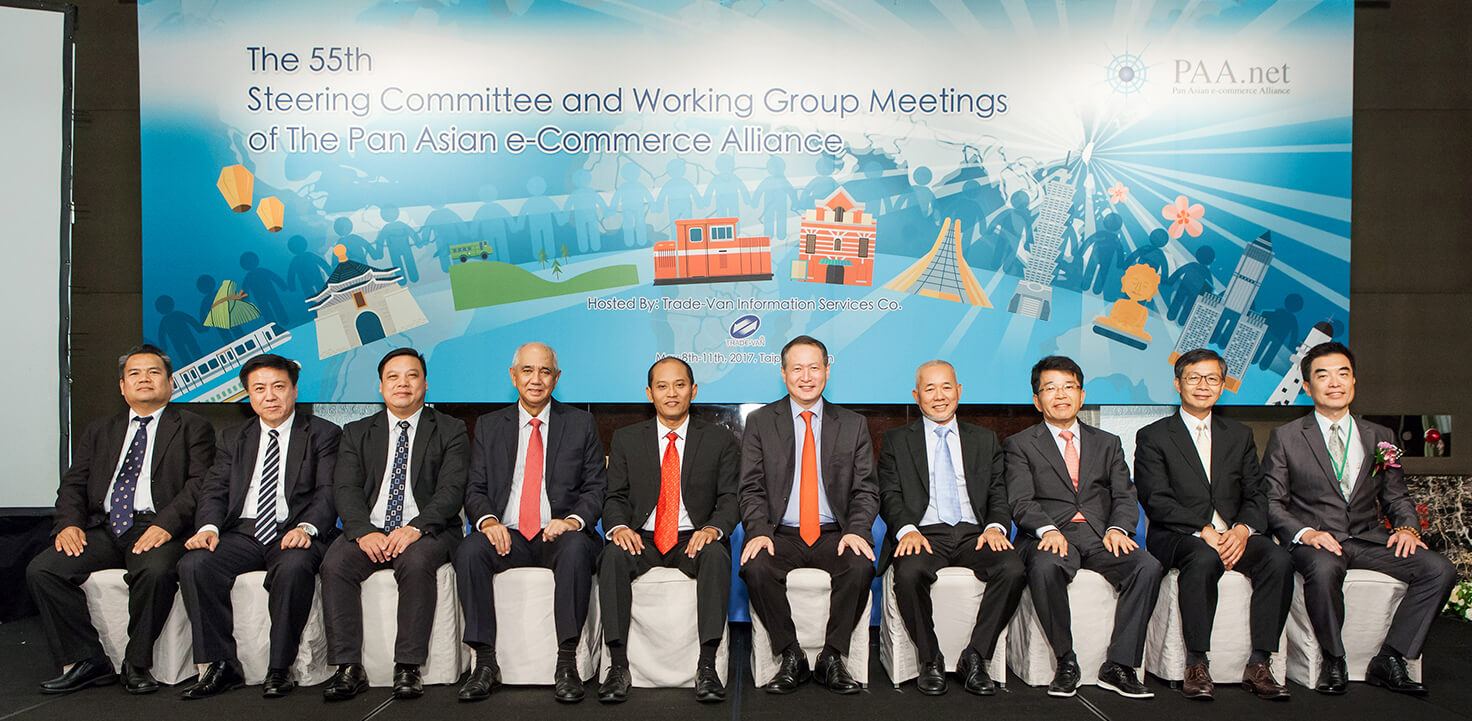 Photo Caption: The 55th PAA Steering Committee meeting hosted by Trade-Van Information Services Co. of Taiwan from May 10th to 11th, 2017 in Taipei.
arrow_circle_leftback