Tradelink shared latest market insight at Identity Week Asia 2020
Tradelink, a leading provider of advanced biometric authentication and electronic Know-Your-Customer (eKYC) solutions in Hong Kong as well as a member of the Fast IDentity Online (FIDO) Alliance, is delighted to speak at Identity Week Asia 2020 that was held online due to the COVID-19 pandemic from 14-15th October.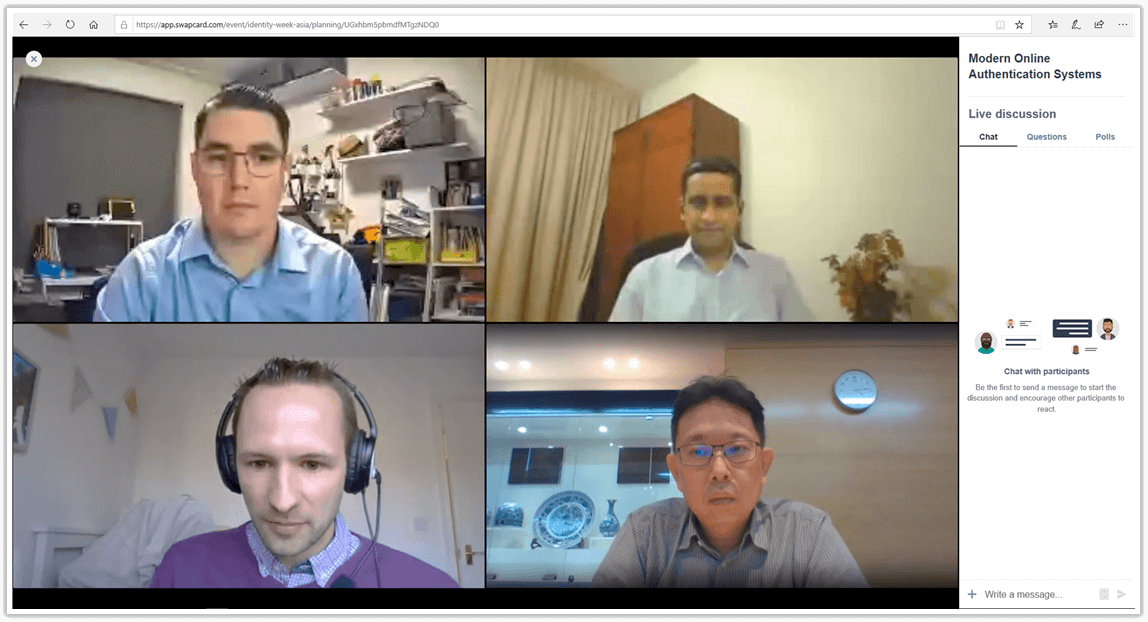 Photo caption: Andrew Cheng (bottom right), CTO of Tradelink, spoke at a virtual conference at Identity Week Asia 2020.
Executive Director and Chief Technology Officer of Tradelink, Mr. Andrew Cheng, and a representative from the FIDO Alliance, was invited to speak in a panel discussion on the topic "Modern Online Authentication Systems", which covered the latest landscape of biometric authentication applications, and the new trends and opportunities brought about by the practice of social distancing restrictions under COVID-19.
Andrew shared a customer reference, the Hong Kong Jockey Club (HKJC) which is currently using Tradelink's biometric authentication for its mobile betting apps. HKJC hit a record high total betting of HK$1.38 billion on the opening day of the horse racing season in September 2020 – 6.8% higher than the previous record set in the 2017/2018 season, despite the fact that the HKJC also registered a record low number of attendees at a race meeting of just 362 and all Off-Course Betting Branches (OCBB) closed due to COVID-19 restrictions. This record was made possible as instead of betting onsite at the race meeting or at OCBB, people used HKJC's mobile apps to place their bets.
"It's a perfect example to show how people nowadays are getting used to making online transactions through internet or mobile phones and how biometric authentication solutions are impactful in helping companies to sustain and grow their businesses." said Andrew. "Tradelink, as an e-commerce pioneer in Hong Kong, will continue to strive to develop seamless and secure biometric authentication solutions to meet industry needs."
Identity Week Asia is the largest event of its kind in Asia. The two-day event featured virtual exhibitions, conference sessions and panel discussions attracting over 100 expert speakers and 500 industry delegates from Asia and beyond. With an aim of promoting the adoption of trusted identity solutions, the event featured key areas such as next-generation identity solutions, countering identity fraud, securing digital credentials and more.
About FIDO:
The FIDO ("Fast IDentity Online") Alliance is an open industry association launched in February 2013 whose mission is to address the lack of interoperability among strong authentication devices and reduces the problems users face creating and remembering multiple usernames and passwords. PayPal and Lenovo were among its founders.
arrow_circle_leftback