Tradelink's mega warehouse automation project featured at the Asian Logistics, Maritime and Aviation Conference 2020
Tradelink is delighted that the mega warehouse automation project we delivered to a leading retail chain in Hong Kong was featured as an example of best practices in supply chain automation at the Asian Logistics, Maritime and Aviation Conference (ALMAC) held online from 17-18th November 2020.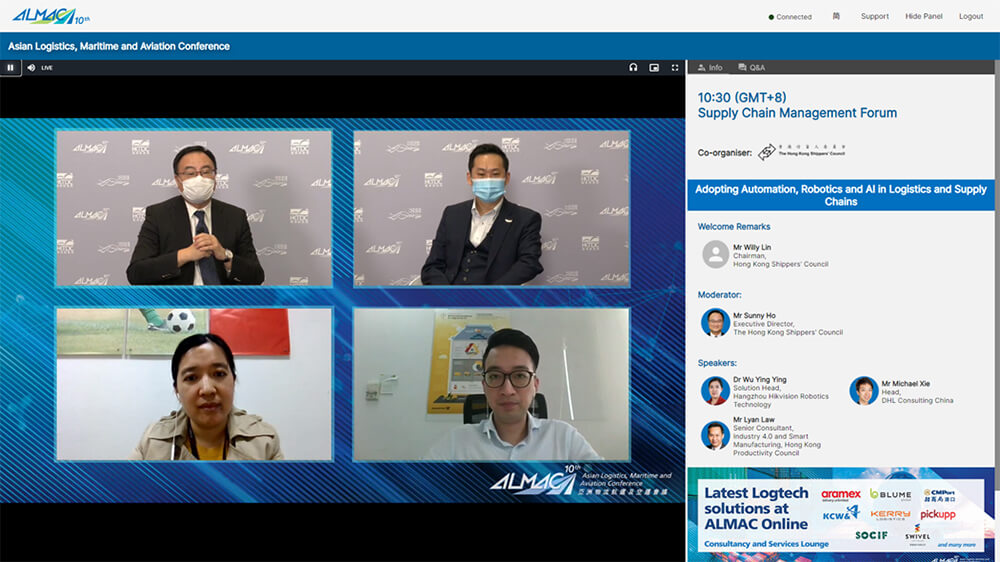 Mr. Sunny Ho (top-left), Chairman of the Hong Kong Shippers' Council and Independent Non-executive Director of Tradelink, hosted the above-mentioned forum at ALMAC.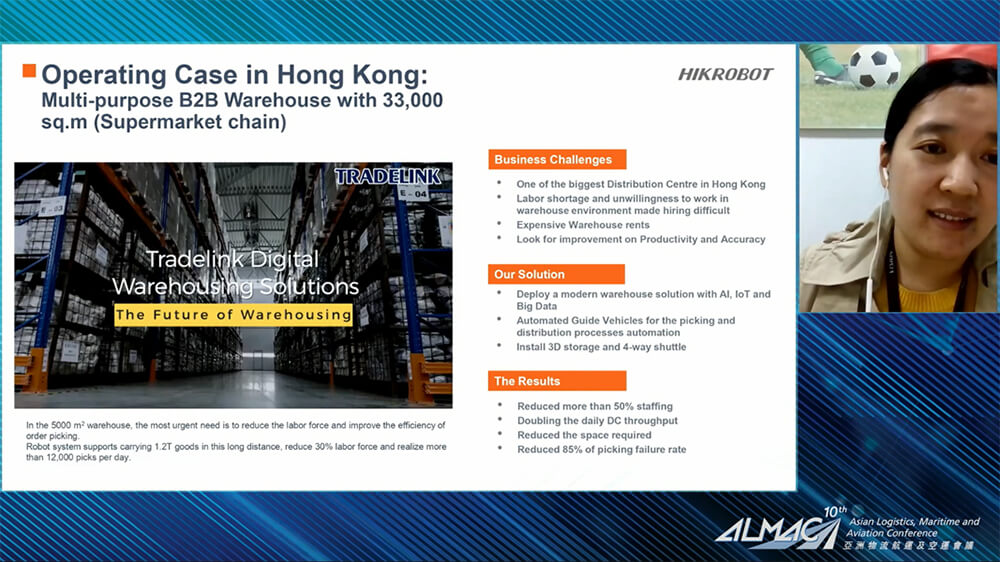 Video showcasing our digital warehouse capabilities was played at the seminar.
In a Supply Chain Management Forum at ALMAC themed "Adopting Automation, Robotics and AI in Logistics and Supply Chains", our business partner, Hangzhou Hikvision Robotics Technology (Hikvision), represented by its Solution Head Dr. Wu Ying Ying joined a group of supply chain experts to share insights into how automation plays a defining role in modern logistics and supply chains, re-engineering operations to significantly improve efficiency and productivity.
Introducing the partnership between Tradelink and Hikvision, Dr. Wu highlighted the mega warehouse automation project, in which Tradelink and Hikvision played a major role in developing and providing a modern warehouse solution for our major retail chain client's multi-purpose B2B ambient warehouse of 33,000 square metres. In the project, Hikvision provided modern material handling equipment, Automated Guided Vehicles (AGVs) for the safe retrieval and movement of loads in support of goods picking in the warehouse/distribution centre. On top of our role as the overall project manager for the development and implementation of the solution, Tradelink also provided our warehouse management system as the mastermind orchestrating and controlling operations of different automated equipment (including Hikvision's AGV and 4-way shuttles for high-density storage).
The project has helped the client to significantly reduce staffing level by 50% and warehouse space required by 25%, addressing the challenges such as labour shortage and high rental cost which our client had previously faced. The overall productivity and efficiency of the distribution centre have also drastically improved with daily throughput being doubled and picking failure rate reduced by 85%.
It is a huge encouragement for us as this project gained recognition as an example of best practices in modern supply chains. We will continue to develop and provide best-in-class supply chain solutions to address clients' pain points and help them grow their businesses.
More about ALMAC
Themed "Capturing opportunities amidst volatility", the 10th edition of the Asian Logistics, Maritime and Aviation Conference (ALMAC), jointly organized by the Government of the Hong Kong Special Administrative Region (HKSAR) and the Hong Kong Trade Development Council (HKTDC), focused on rebuilding supply chain resilience under the new normal, Asia's evolving role in global supply chains, and the trendsetting technologies and innovations for reinvigorating logistics operation and management. While ALMAC went online this year, industries continued to show their support with more than 10,000 viewers from 60 countries and regions joining the global live streaming.
arrow_circle_leftback