Tradelink co-hosted webinar with Entrust on "e-Signing Solutions: The New Normal for More Secure and Efficient Business Operations"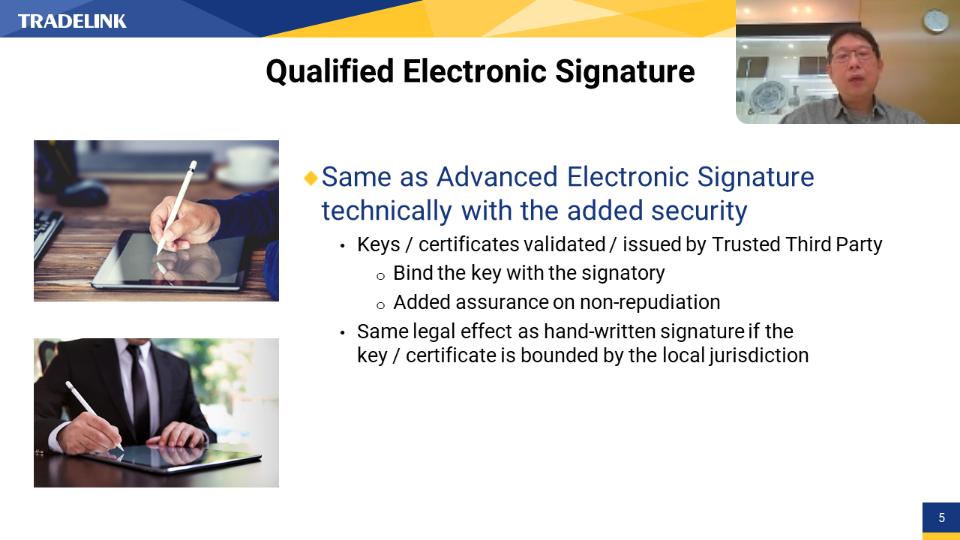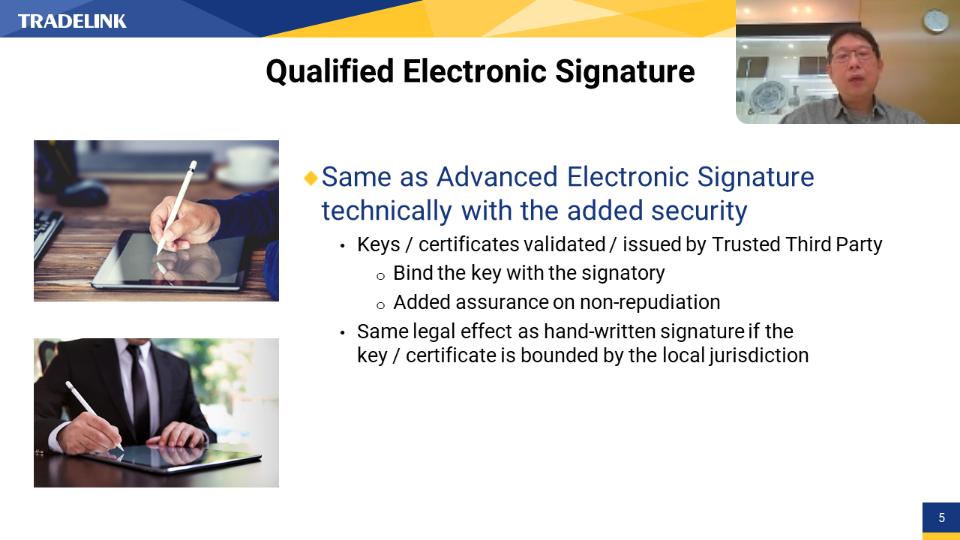 To help businesses better adapt to the 'new normal' of business operations under the raging pandemic, Tradelink co-organized a webinar on "e-Signing Solutions: The New Normal for More Secure and Efficient Business Operations" with Entrust, a global leader in identities, payments and data protection on 31 March 2022. The webinar introduced the prominent role played by digital certificates and digital signing solutions in maximizing work efficiency under the current climate.
Mr. Andrew Cheng, Executive Director and Chief Technology Officer of Tradelink, started the webinar by examining the feasibility of e-signing replacing hand-signing and the varied usage of digital signing in both Hong Kong and Mainland China. Leveraging Tradelink's unique status through its wholly-owned subsidiary Digi-Sign as one of the Recognized Certificate Authorities in Hong Kong, Tradelink offers legally-binding solutions that address the regulatory requirements applicable to government bodies and corporations of all industries from banking to healthcare."
Andrew's sharing was then followed by the presentation from Entrust's Technical Sales Consultant, Mr. Alden Sin, who introduced the Hardware Security Module (HSM), a cryptography-specific hardware device that securely generates and stores digital keys. He also shared several key blob solutions that are used to manage key security and protect sensitive data in e-signing systems. The webinar ended with a Q&A session at which questions were enthusiastically raised and discussed.
Having attracted around 100 participants from the government sector and a wide range of industries such as insurance, banking and healthcare, the webinar has generated some great interests in our digital signing solutions from potential customers and partners. In light of the successful outcome of the event, Tradelink will organize more webinars with industry experts in the near future to enhance our engagement with our customers and partners.
arrow_circle_leftback